High temperature labels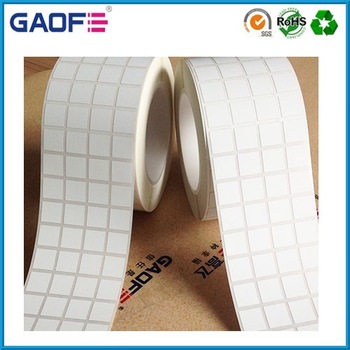 High temperature labels
High temperature labels with polyimide film substrate coated with special pressure sensitive adhesive, has good chemical resistance and abrasion resistance, maximum resistance to temperatures up to 320 ℃ of flux melting agent and cleaning chemicals, etc. have a certain anti-corrosive effect, for use in high temperature and extreme wear environments to maintain excellent performance.
Product Description
High temperature labels, it is a kind of permanent acrylic pressure sensitive adhesive
and for thermal transfer printing opaque white matte coating polyimide label. Label
maximum operating temperature can reach 300 ℃, is designed for leadfree electronics
manufacturing process and design. Label Suitable for reflow and wave soldering process,
product tracking, but also for the next PCB board and board.
At room temperature, the pressure-sensitive label is better, after higher than 200 ℃,
the label chemical resistance and abrasion resistance performance better. It is designed
for a printed circuit board with a character or a bar code label design. Because it can
withstand the process of production of printed circuit board facing the solder melting
agents of erosion. Currently the main thickness of the substrate is 25u, 50u, the total
thickness have two kind of 75u, 100u.
High temperature labels stickers are widely used in many electronic products and SMT
manufacturing process crest, motherboards, corrosion products, mobile phones and
lithium batteries and other products, high temperature labels. A polyimide film substrate
coated with silicone pressure sensitive adhesive, suitable for printing with UV inks and
thermal transfer printing, has good chemical resistance and abrasion resistance up to
temperatures up to 320 degrees of flux melting agent, and cleaning agents chemical has
a certain role in the high temperature corrosion and wear and other extreme
environments to maintain excellent performance.
Specifications
1. Product Name: high temperature labels
2. Product Specifications: 28mm * 5mm
3. Product surface material: PI film
4. Viscose agent: permanent acrylic pressure sensitive adhesive
5. Color: Matte
6. Thickness: 50um
7.Length: 50M length or customized products according to
customer requirements
8. Custom processing: Yes
9. Printed form: for thermal transfer printing
Product Features
1.Label printing and good resistance to alcohol, solvents
2.Tag temperature can reach 260 ℃ -300 ℃
3.After high temperature labels do not change color, print clarity
4.Materials, environmental protection
Product application
Permanent use, PCB board SMT placement process with a high temperature labels.
Suitable for aerospace, automotive, electronics, displays, cables, power supply,
product identifica-tion, card and mobile phone battery label applications.
Packaging & Shipping
Inner package: Thin plastic film surround the products to protect it from scratching and water.
Outer package: Internationally standard K3K 5 layers corrugated cartons. Making the products arrive at our customer safe and in time is what we pursuit.

Shipping by air,by sea,by express.

Goods will be ready within 7days after receving the payment.
Why choose us
Dongguan GaoFei Electronic Technology Co., Ltd. is established in 2008, focused on the mobile phone, automotive, medical and other industries and to provide high-end label solutions, the company is committed to become the high-end bar code solutions provider.
GaoFei is based in Dongguan, global services. It have been cooperated with Huawei, Kyocera, Lenovo, Samsung, backgammon, Toyota, Gree, Shanghai and many other well-known pharmaceutical companies. Our business philosophy is cooperative, win-win, innovation.
A partnership with RICOH, ZEBRA, MOTOROLA, HONEYWELL, POLYONICS, BRADY, 3M and many other well-known enterprises, in order to better serve global customers, GaoFei commitment in all aspects of our service, quality, efficiency and constantly strive to innovate and exceed customer expectations.
The company passed ISO9001 quality management system certification, and the company's products also passed SGS, ROHS, UL certification.